About Us, Our Dentists and Your First Visit
The very best in gentle dental services
If you haven't visited a dentist for a while, it might be time.
Our dental care is provided in comfortable and modern surgeries with audio-visual entertainment available for use during those longer appointments.
We treat all areas of general dentistry from overall oral hygiene, gum care, fillings and extractions to more complex and specialised treatment including periodontal treatment, root canal treatment, crown & bridge, implants and orthodontics.
For particularly nervous patients, we also offer inhalation sedation making your dental experience less stressful.
Whether you have avoided the dentist because you are apprehensive about the pain, cost or what we might find with your teeth, we understand your concerns and our aim is to work with you to achieve your desired outcome.


What you need to know about your first visit:
Making your first appointment is the hardest step, regardless of your oral health and hygiene, we are here to help.
Your comfort is our biggest priority.
Our new patient form can be downloaded and filled out beforehand at your convenience or completed at the clinic when you arrive for your appointment. Download it here

!

If you have private health insurance, bring your membership card as treatment can be conveniently claimed at the time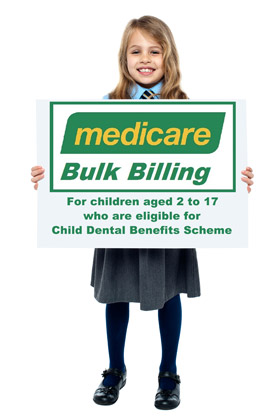 Benefits Scheme
The Commonwealth Child Dental Benefits Schedule allows for up to $1000 basic dental treatment over a two-year period for eligible 2–17 year olds.
2-17 year olds are eligible if they receive Family Tax Benefit A or other relevant Australian Government payments
Treatment is bulk billed through Medicare
Eligible children pay $0 – no out of pocket costs
What dental treatments are available?
Dental check-ups and cleaning teeth
Fissure sealants and Fillings
Dental X-rays
Extractions
Root canals